Biking
"It's just a massive challenge. We're in business to sell bicycles… and we have no bicycles.
Another way that Canada, and other parts of the world has changed since the outbreak of the Coronavirus disease, is the rise of recreational bikers.
Biking, even pre-pandemic has always had a special place in my heart. It is simply the best way to explore and navigate a new area for pleasure, if the conditions are suitable. It's much faster than walking, which means you can cover way more ground, seeing much more. It's incomparable to a car in terms of capturing an enjoyable 'outdoor experience', meaning you feel as if you are one with nature and not just being exposed to certain parts of it such as catching a breeze, or looking out the windshield. Above all else, it's a fun physical exercise of maintaining balance, activating more muscles to climb ascents, then becoming hyper focused while blazing down the descents.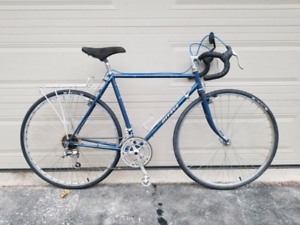 Growing up, the 'nicest' bike that I had ever ridden was up to only about 100$ in value. I'm talking about the lower to mid end mountain bikes sold in general stores like Walmart. When shopping for a bike last year, I finally wanted to try a road bike, because paved trails and roads were where I did most of my riding anyways. But, I wasn't ready to drop a grand on a brand new one, so I turned to old trusty Kijiji for options.
After narrowing down my choices for bikes that fit my physical specifications, such as the height and inseam, I found a blue Miyata sold by someone who fixed up vintage road bikes and sold them.
Having had it for a year, I can confidently say that going from a 100$ bike to a 400$ used one is worth your money. The riding is much more refined, meaning you're not straining, you're working. You maintain much more speed when cruising, meaning you can go longer without pedalling as much. You have an advantage over your co-riders who may have a heavier bike than you, and so forth.
Music
Spotify has to be one of my favorite and most used applications. As an avid music listener, it has been game changing in my ability to keep and maintain my music, and to easily and explore new music.
Out of my many playlists, one of them is a Classical / Jazz one, which I indeed listen to frequently while biking.
---
How do I listen to my music? With my True Wireless Jabra Elite Active 65ts of course! (not an affiliate link or sponsored post. Jabra, you can reach out to me on Twitter).
Wait a minute, isn't listening to stuff with earbuds dangerous while you're doing things where you should be aware of your surroundings? For those of you who think that, I have two words: risk tolerance. Actually, I have a little more than that. A study published in 2011 concluded that no negative effects were found when listening to music using only one earbud, and I only listen to music with one earbud.
From that playlist, some of my favorite while biking are:
Cinema Paradiso - Ennio Morricone
Dolce Vita - Taro Hakase
B Rossette - Blue Phoenix
Stardust - Ben Webster
Overture (Whiplash) - Justin Hurwitz
Mascagni: Cavelleria Rusticana/Leoncavallo